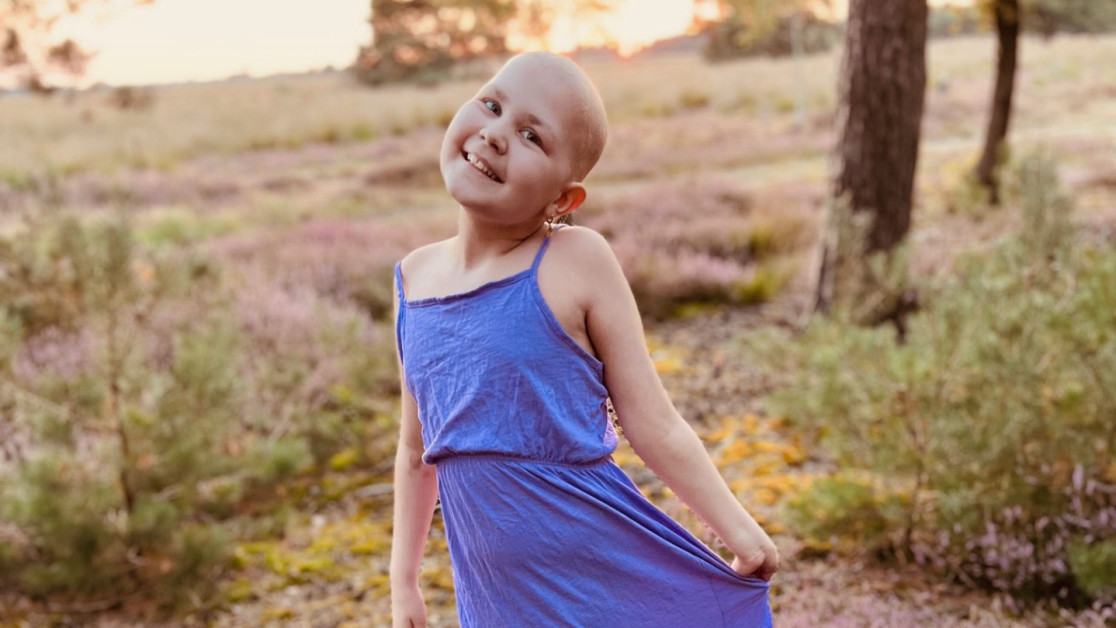 'In 2017, Lynn, then 5 years old, suddenly had a high fever. She had never had that before. She looked pale and sweated a lot. At that time, her molars were also coming through, so I didn't find the symptoms very strange. We were supposed to go on vacation a week later. Because Lynn still wasn't feeling well, I called the doctor. He decided to do a finger prick. The result was not good, and we were referred to the hospital. Three hours later, we knew it was really bad: acute lymphatic leukemia.
She underwent a two-year treatment, back then at the WKZ. A very nice department. Like a small village. We knew almost everyone, and as parents, we had a lot in common. Everyone knew each other, and we supported each other as parents. In the end, Lynn received the flower bead.

Cancer, again
But three years later, during a routine check-up, it turns out Lynn has cancer, again.
This time, the treatment would take place at the Máxima Center. The new building had opened in 2018. It's different from the WKZ, the Máxima Center is much larger. Fortunately, Lynn felt at ease at the stem cell department . 'As long as she could do her own thing. Unfortunately, that wasn't always possible because she spent part of the time in isolation. But when it was possible, for example, we went to the sensory room. She loved that. In the evening, she would lie on the waterbed, and we could watch movies and chill all evening.'

Three options
The stem cell transplant went well. Lynn improved. But still, a few months later, cancer returned. A massive blow. We knew that there were very few medications that could help Lynn.
There were three options: a new stem cell transplant, testing a new drug, or doing nothing. The third was not an option. Not for Lynn, but also not for us. And Lynn's body couldn't handle a new stem cell transplant. So we decided to try the new drug, Venetoclax. Up to that point, it had shown good results, but there was also a significant chance that it wouldn't work.
After about four weeks, it turned out that the drug did little to nothing for Lynn. In addition, the side effects were severe. Extra blood transfusions, going back and forth to Utrecht each time, it took a toll on Lynn. We decided to stop.

At home
The palliative phase is described as a phase in which you have to understand that your child is going to die. How do you understand something like that? When, how, what?
We agreed that we wanted to give Lynn full control. She didn't want any more medications, wanted to be at home, lie on the couch, and be among her own things. We were able to arrange that.
At that point, the Máxima Center transferred the care to home care for children and the general practitioner. They did a fantastic job. Doctors from the Máxima Center and the shared care hospital called us several times a week to ask how things were going.

Farewell
We kept family and friends close. Everything was discussed with them. Sometimes they came up with questions we hadn't thought of. I also want to give that as advice: You don't have to do this alone. It takes a village to raise a child, but also to say goodbye to a child.
The help of friends and family also ensured that our son's life, who was six, could continue as well as possible. They helped us with everything. They cleaned the house, took our son to school, cooked, and arranged transportation to Utrecht. Lynn also liked having visitors. Until she really got sick, then she didn't want that anymore.
She didn't want to say goodbye to all the people she loved. Only to the grandparents, uncles, and aunts, as we agreed. We had to say goodbye to one person. She had to say goodbye to hundreds.

The gifted weeks
At home, Lynn improved, even though she didn't have much time left. We were able to enjoy two more weeks with her. Two weeks that felt like a gift. We went to the Efteling, went swimming, and went to school one morning. We also went to a tattoo shop where Lynn could draw a tattoo on us.
Meanwhile, Lynn became more and more tired. She slept more and more. But when she was awake, she was really just 'our Lynn.'
In the morning of February 22, 2023, she quietly slipped away. We were right there with her. It was okay. She chose her moment, just when home care was away, and we were together as a family of four.

An advice
When Lynn had passed away, we needed the people around us more than in the weeks before. Because Lynn was still there, and we wanted to spend every minute with her.
Looking back now, I want to tell other parents in such a situation: talk to each other, and also with family and friends. But especially with your child. Don't force them into things you want. Look at it from the child's perspective. What do they want? Give them back control. They have already lost so much control.
Lynn wanted to be at home. She deserved that. She left for her favorite place, with her favorite people around her. How beautiful is that?'
View all stories